January 1st, 2015
Happy New Year to all you music lovers, music makers, movers and shakers! This will be an interesting year!
December 21st, 2014
My Holiday song for 2014, "Lake Affection", is now available for download!
here!
Listen to it's radio debut on 105.9 The Rebel's Soulshine Annual Christmas Holiday Spectacular Shindig today from 10am-2pm EST.
December 14th, 2014
I had the honor of playing some piano on a track for Red Apollo's upcoming album, Altruist. and I'm very excited for this album release! Keep an ear out for it and you may hear some familiar piano stylings!

October 25th, 2014
Tonight I have the pleasure of performing with much of the local Syracuse talent for the First Annual Syracuse songwriters Festival at The Borodino Grange. If you haven't yet, get your advance tickets at: http://www.brownpapertickets.com/event/878273

October 20th, 2014
My latest album WILD is now available for listening (and discovering other new artists) on Pandora.
Check it out!
October 9th, 2014
The Post-Standard and syracuse.com have named SubCat Music Studios the #7 top music venue in CNY for the Sub Rosa Sessions that I created and host every 3rd Sunday of the month to showcase Original local and national music! Pretty awesome recognition for a music recording studio! Woot Woot!
Read about it HERE".
October 1st, 2014
My latest album WILD was some inspiration for artist, Alexandra Higgins series of "In The Garden" and "Roots" paintings.

September 1st, 2014
WILD EUROPE TOUR!

August 21st, 2014
One of my songs was part of this fantastic compilation of female artists of every genre and tomorrow is it's official release and free copies will be available from the site until they run out, so get your copy asap and support indie everything! <a href= "http://parx-e.com/parx-e-volume-4/" title="Parx-e Vol 4″>HERE!

July 1st, 2014
Tour dates announced for my upcoming Autumn Tour in Europe!
10.09.2014 DE-Hamburg, Fundbureau
11.09.2014 DE-Hannover, Feinkost Lampe
12.09.2014 DE-Bielefeld, Jz Falkendom
13.09.2014 DE-Düsseldorf, PIANOVUM Klaviergalerie
14.09.2014 DE-Offenbach, Hafen 2
15.09.2014 DE-Bochum, Die Trompete
16.09.2014 DE-Wetzlar, Cafe-Vinyl
17.09.2014 DE-Munich, Cord Club
18.09.2014 AT-Klagenfurt, The Super Pub (ex-Kamot)
19.09.2014 IT-Auer, Teatro Aurora
20.09.2014 IT- Treviglio (BG) 4pm – PATTY & SELMA
21.09.2014 IT-Monzambano – Festa Dell'Uva
23.09.2014 IT-Bozen, Papperlapapp
24.09.2014 DE-Mainz, Wildes Leben
25.09.2014 DE-Bonn, Kult 41
26.09.2014 DE-Leipzig, Tabori
27.09.2014 DE-Berlin, PRIVATCLUB Berlin
28.09.2014 DE-Kiel, Cafe Prinz Willy
February 28th, 2014
Today I donated my hair again to Wigs For Kids. It is a biennial tradition of mine and this time it was much more than my usual 14 inches, so it may be a bit longer than 2 years before I donate next. My producer for WILD, Jon Lessels, donated as well! It is a great organization so please check them out and if you hair isn't long enough to donate, send them some spare dollars… every little bit helps offset their costs as they make their wigs in house.Thanks!

February 16th, 2014
The 8th edition of my Sub Rosa Sessions at Subcat Studios is tonight! I'll be performing as well as hosting special guest Heather Maloney.

January 30th, 2014
Check out this lovely Fan-made music video for my song "This Beauty".

January 19th, 2014
Tonight I host the 7th Sub Rosa Session featuring Joshua Scott Carter and Rabbit In The Rye! Sure to be fantastic night of music. Nowhere else, but at Subcat Studios can you hear freshly picked music in an acoustically perfect room, be part of an intimate (30 person) concert listening experience, all the while the night is professionally recorded and mixed and then you are handed a finished limited edition CD with full artwork at the end of the concert! I love what I get to do for a living! Making music and sharing music is my life!

January 13th, 2014
I had the opportunity to partake in the 3rd Edition of the Subcat Sessions presented by Syracuse.com and the Post-Standard. It is a live video/audio recording of 2 contrasting local artists from Syracuse, NY and they get 1 hour to meet, and work on something to perform together. I had the pleasure of being teamed up with Joe Altier, known around town as "Just Joe" and after an half hour of playing original and cover songs for each other, we landed on "In My Life" by The Beatles which was great since The Beatles are celebrating their 50th anniversary! There is a nice article and video here!
January 1st, 2014
HAPPY NEW YEAR! Well, You probably all know what my resolution for the year will be… I started and finished recording my album "WILD" the summer of 2012 and have yet to release it. Well, that is because it has been a wild year full of broken hearts, love, new scenery, new people, old places, childhood memories, my first home, my first time in over 10 years staying put for more than a few weeks at a time and the first time in my life feeling like I can balance "Normal" with "Bohemian-Gypsy-Vagabond-Hippie",or whatever else I get called these days. Needless to say, I have been enjoying life and music never stopped flowing… I have already written 3 more albums!!!! I just wasn't yet ready to present this large album. It's a double-album, and I thought that making it was just a matter of releasing an album with 2 discs, rather than one… but more songs means more mixing, more decisions on song order and flow, and more album artwork. It is a project on a magnificent scope and I want to do it justice. I will be releasing it SO SOON and I am SO THRILLED!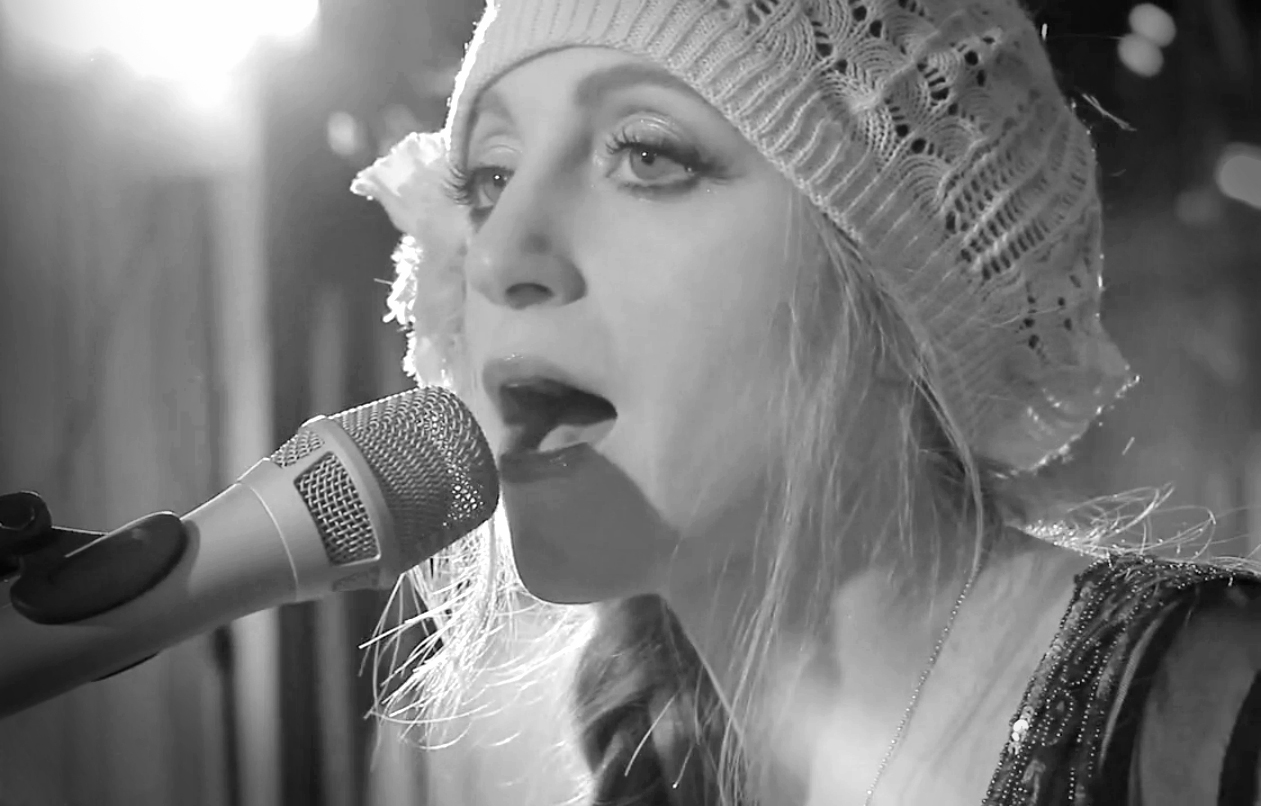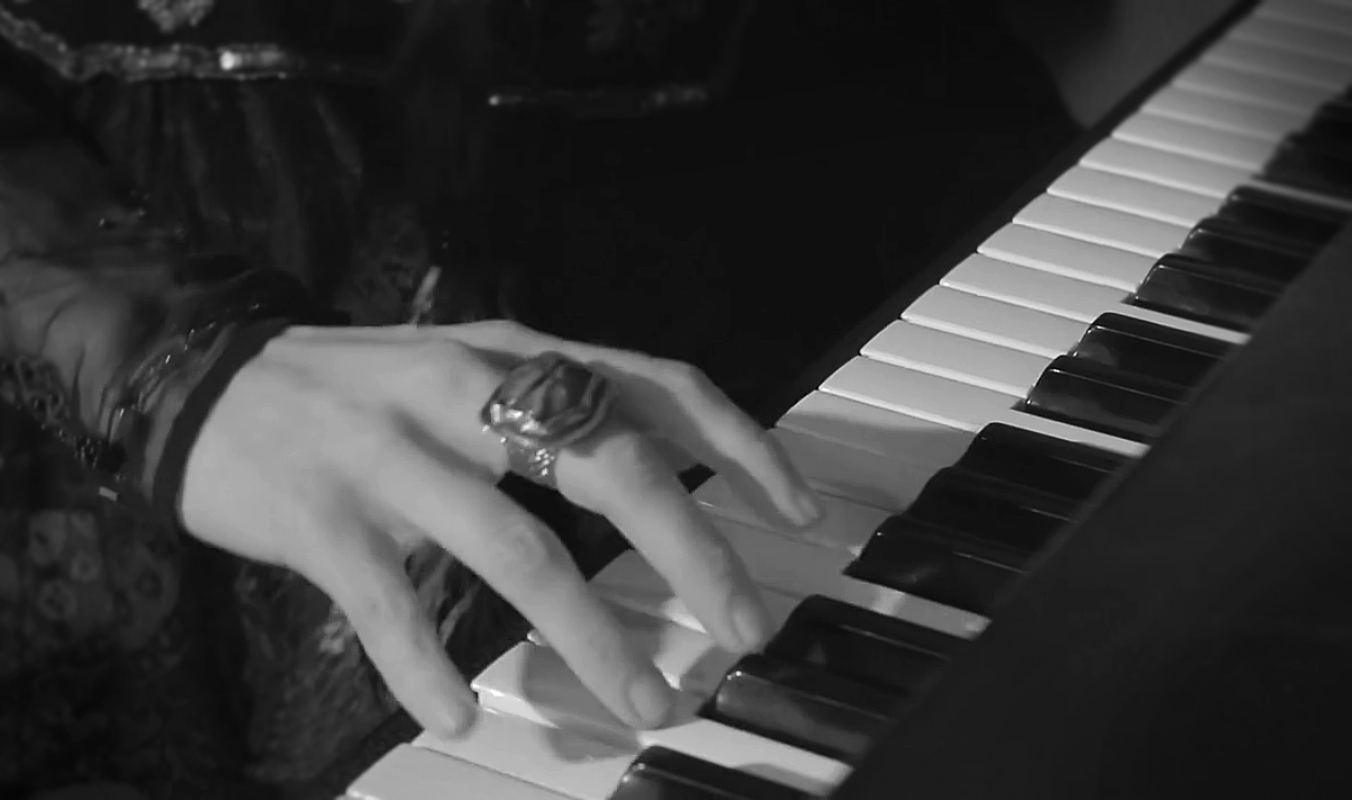 December 9th, 2013
It's loud and electric! I graced the front cover of the latest issue of 20 Watts Magazine's. There's a great article featuring my Sub Rosa Sessions at SubCat Music Studios too! Check it out here on page 26!
November 17th, 2013
Hosting Sub Rosa Sessions #5 featuring the soul-singing songstress Maryleigh Roohan from Saratoga, NY and the Lyrical finesse of Dusty Pas'cal of Skaneateles, NY.

October 20th, 2013
Hosting Sub Rosa Sessions #4 with fantastic singer-songwriter Hana Zara from Burlington, VT and local songbird Alanna Boudreau.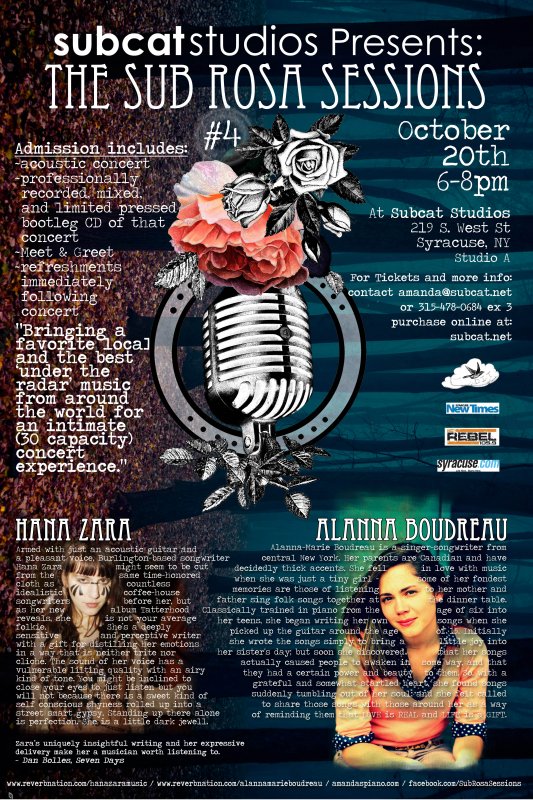 September 19th, 2013
HAPPY HARVEST MOON! I though I would share a taste of my upcoming album, though the album release date is still not decided on, I couldn't wait to share it with you! Enjoy the Pre-Release Listening Preview of 2 tracks from my Upcoming Double Album WILD!
September 15th, 2013
Hosting Sub Rosa Sessions #3!

August 18th, 2013
Hosting Sub Rosa Sessions #2!

August 10th, 2013
I'll be playing keys and singing backing vocals for The Last Internationale's upcoming tour dates with Scott Weiland and The Wildabouts. For tour dates and info got to thelastinternationale.com

July 21st, 2013
Hosting the first edition of the Sub Rosa Sessions at Subcat Studios. It is a monthly live-recorded music series that takes place right in beautiful Studio A live tracking room so the max capacity is 30 people which further adds to the intimate listening atmosphere. Each patron of the event receives a professionally mixed and packaged album of the concert immediately following. I also supply some refreshments for during the Meet&Greet with the artist. This first Sub Rosa I will be hosting my dear friends Arborea from Lewiston, ME.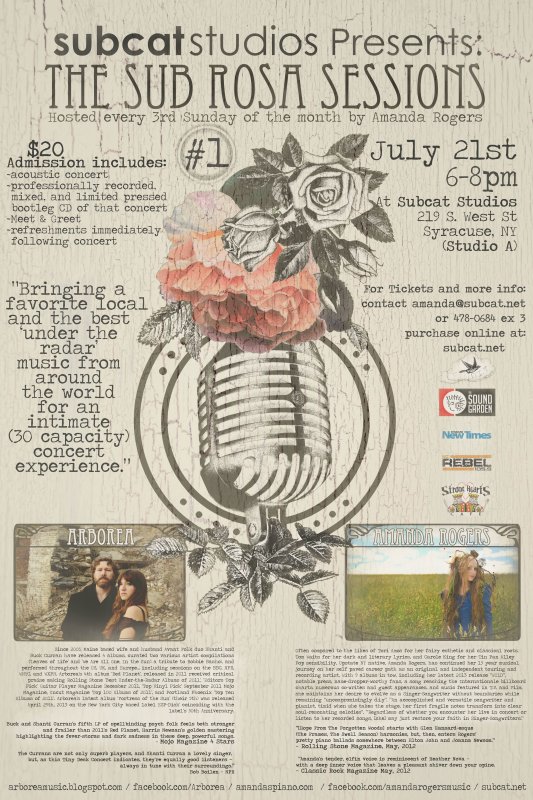 July 1st, 2013
It's been too long since an update, but that is because I have been busy finishing my upcoming double album "WILD" which will be out this summer. (More info on it's release coming soon!)
As promised, here is the track listing.
Welcome To The Show
10¢ Songbird
Can't Stop
Walking
Honey You'll Bee
More, More, More
Sing On
And The Birds Will Sing
Sad Song
Calendar Of Yesterdays
Ol' Bag Of Bones
The State I'm In
Light Sleeper
This American Dream
Sweet Sleep
Words And Whiskey
Someone Waits
Genes I'm Always Wearing
Blue
10 Years Closer
Wild
+ "secret bonus track"

January 1st, 2013
Happy New Year! A New Year means new projects for me. If you didn't already notice, I have seemingly been laying low for a bit… but really I have just been so full of creativity that I haven't taken the time, nor wanted to tear myself from this time of great inspiration, to give you all the latest scoop. I apologize for that! Anyway, I have a new album underway. No title yet, but these 20 songs all came to me so quickly and I have been putting my free time and money into bringing those songs to life and recording them. You may have also noticed that I have not had any special hand-made R.M.H. items for sale on my Etsy store… well my apologies again. I was in the spirit of making and giving… not so much selling. However, I have made a few neat things as of late and will be adding those to my store very soon. More recently, I have been doing, making, working, creating, laughing, hanging, inspiring, and just plain getting into shenanigans with the lovely folks at Subcat Studios in Syracuse, NY and I make this face a lot more now.

November 12, 2012
Okay music lovers and indie art and music supporters! It is that time of year again for sharing and gift giving… so I have put nearly everything in my store on SALE! What better gift than the gift of music and knowing that you had a hand in keeping the arts alive! From now until January 1st I will beautifully eco-gift wrap everything with lots of love and extra goodies as always! FOR THE SALE, GO HERE!
November 1, 2012
Thank you to everyone in Europe, from venues, promoters, other bands and musicians, to the friends and fans who came to the shows for making it another wonderful tour! I hope to be back again real soon! Let me know what you hope to hear/see/experience for the next time around. I go there for YOU – and because I love doing what I do, and I love traveling, and making others happy, I would love to tailor the tour to what you all want. So let me know… from songs, to stage, to venues, cities, or whatever your creative hearts suggest. See you all next time.
I wish I had hundreds of photos to share of this past tour, but sadly, my camera was stolen 🙁
If you go to my Facebook page however and hit the "Like" button… hover a bit and then add my page to your "interests", you will always be updated with photos and other fun stuff. THANKS!
October 13, 2012
New Tour Dates added for the Amanda Rogers/The Pleasants European Tour!

September 15, 2012
And The Winner Is….


Get it HERE!
September 10, 2012
I am about to print a new tshirt design! It has been a few years so I am quite excited to have a new AR tshirt design available. I made 3, but couldn't decide which one. I could use your votes!


To vote, go to my Facebook page HERE and add your comment!
September 1, 2012
European tour dates have been announced for October! Amanda Rogers and The Pleasants both backed by full band – The Sketchy Indians. Amanda will be playing songs from her latest album, Hope From The Forgotten Woods as well as a few old tunes that have not been played live for many years. The Pleasants will be be performing old songs and new songs from their latest D.I.T. records release, REVOLT which will be available for the first time on this Fall tour! click the poster for the dates and go to the tour page for more details!


August 24, 2012
I recently had the honor of accompanying a favorite local musician, Dusty Pas'cal on a song called "Echoes" off of his latest album, HUMAN HEART. This song is just beautiful start to finish and the album has been keeping me inspired and entertained for months! It is by far my favorite release of this year. Tomorrow I will be performing a solo set, as well as joining him on stage for his set, for his album release concert at the Auburn Public Theater. I can't express enough how much I love his songwriting stylings and wordplay lyrics. I highly recommend that people pick up his new album HERE!


May 14, 2012
"As one half of The Pleasants, Amanda Rogers promotes a vegan diet, a return to nature, the unconditional protection of all living creatures, and a lot of love in all situations. Since then, there is still a surprise that this american singer, pianist and model hippie showcases for her solo album while diving into the darkest depths of another soul: In Hope From The Forgotten Woods, Rogers slips into the skin of a potential serial killer. The songs that she has recorded alone without her partner, the Pleasants guitarist Mike Matta, trying to fathom how lonely, disappointed, and desperately bitter, someone who must know no other solution than violence. "I'll be dying all my life," Rogers sings of dark nights, in which the demons appear. Of cages, in which the protagonist wants to lock up. Of the love that might yet still promise salvation. The waterway, which goes to Rogers, is dangerous, and it flows quite close to ostentatious. But the concept album was a safe course through the shallow waters, by setting a musical counterbalance, relying largely on her own piano playing and her voice, which this time seems remarkably close to Kate Bush, as it has been said before. Still achieving the grim and stark, serial killers and alike remain locked away."
~reviewed by Thomas Winkler for Musikexpress Magazine

May 11, 2012
" I like listening to most music with good over the ear style headphones…but Amanda's especially because it feels like the harmonies and music wrap around me." My album was reviewed by Michael Hulsebus for his music blog and it was a really thorough and sincere review of my music and career history. Check it out HERE.
May 10, 2012
"On her latest release Hope From The Forgotten Woods, Amanda Rogers brings together intimacy, intensity and expression and beckons you to dedicate your time to each song and as a whole album. Freed from all constraints, she plays and sings [the songs] in a frenzy. "Hope…" is a treat Female Singer-Songwriter album – a reduced mix of blues, jazz, folk and pop. Extremely independent. No copy, no leaning on other musicians. Amanda Rogers is herself, comparisons are no longer needed. Rather, others must now be judged by her."
~Reviewed by Thomas Stone For Hurricane Bar HERE.
May 7, 2012
Eclipsed Rock Magazine, in regards to my song "The Taming Of The Lonely One" from my album Hope From The Frogotten Woods, "A beguiling song from an amazing album: peppy, with a catchy, happy melody. Yet still Darkness lurks between the lines. Amanda Rogers takes the listener on a disturbing journey into the forgotten forests and leads them back into the daylight. And all this in a song."

May 6,2012
Classic Rock Magazine (DE) gave a review and write up on my album Hope From The Forgotten Woods. Here is the translation: At 17 years of age, sweet Amanda Rogers self-released her first album Here And Nowhere. Now this petite singer and convicted vegan, at 29, presents Hope From The Forgotten Woods, her seventh album. The 16 songs on this album were created three years ago all the while Amanda devoted her time to The Pleasants, a folk duo that was touring and recording their own material. This time period let her songs mature and Rogers learned more about them and thus further understanding of herself. Finally, she took these songs out again and settled on them. She waited until the muse kissed her again and then locked herself night after night alone in a studio.
The result is very sad melancholic music with sweet melodies, full of passion, pain and gloom, but also liberation and courageousness. Amanda's tender, elfin voice is reminiscent of Heather Nova – with a deep inner voice that leaves a pleasant shiver down your spine. Hope From The Forgotten Woods combines light and darkness, joy and sorrow, hope and fear. She has always been honest – disguising herself, and cannot help but to let emotions run wild.

May 1,2012
My Album Hope From The Forgotten Woods received a great feature in Rolling Stone (DE)!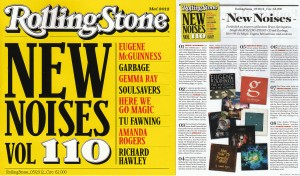 April 29,2012
European Tour Dates Announced! Check tour page and FB page for current and up-to-date info!

April 25, 2012
New Album Hope From The Forgotten Woods will be available April 27th! If you order it in the next few days from my website here, along with the album, I will send you a link to unreleased acoustic demo versions of some of the songs. Also, if you are a fan in Europe, as special promotion, it will be part of the 5euro sale through Amazon from Friday to Sunday only.
March 10,2012
This Past winter I took a few weeks and completed my next album. Here is a recent write up for it:
"To Hope is to fear", so goes an ancient chinese proverb, and like the yin and yang, and all things of light and goodness in need of darkness to be complete, this could not be more accurate when speaking of Hope From The Forgotten Woods, Amanda Rogers 7th Album release due out April 27th on Make My Day Records in Europe and Do It Together Records in the U.S. Amanda's songs have always held a filmic quality to them like imagery and score moving along the plot to a silent film, so it comes as no surprise that she would eventually make a concept album, like the musical equivalent to a risque crime drama film of the 1930's. Hope From The Forgotten Woods is Ms. Rogers most intimate and revealing album to date, full of honest self-observation. Digging deep to the core of a single emotion felt by the tragedy and despair brought on by the cruelty of others and fully realizing the fantasy of the "what if", Amanda conceptually fulfills the urges of her true hearts' desire. Like Satisfying an itch, Ms. Rogers lets her mind slip to the dark side to explore a feeling so deeply that she was able to fabricate such circumstances of emotional truth that you could never believe it was partially rooted in pure fiction.
Hope… is a 16 track album that was conceived of and written 3 years ago, during which time Amanda explored other musical ventures, and while these songs sat and simmered in her heart and mind, the story began to unfold – revealing more to Ms. Rogers about herself than she ever expected. Amanda is always sure to let the creative process happen to her rather than to make it happen, and so once this story unravelled, she spent night and day alone in the studio and recorded every spark just as it flowed into her, creating a dark and intimate soundscape that supports the confessions of a would-be serial killer full of pain, passion, vengeance, and liberation.
Can you dream up an alternative ending to the story to help mend your broken soul and seek revenge on a wicked world without leaving the confines of your mind?
Well, yes, with songs like "Get Your Heart", and "Ms. X", Amanda's Hope From The Forgotten Woods has done just that.
Until it's release date, you will just have to enjoy the teaser video-vignettes I have been making which will be leading up to April 27th here. Enjoy!
February 5, 2012
I am proud to be taking part in a benefit CD and concert to raise money for the Vermonters still dealing with the aftermath of Hurricane Irene when she swept through last Summer. "Irene's Wake" is a commemorative CD and DVD produced in response to Tropical Storm Irene through a volunteer collaboration of local musicians, Mount Hollywood Studio, and LPCTV. The musicians provided the songs, Mount Hollywood and LPCTV provided the equipment and facilities, and community members provided the video footage and photographs of the flood and subsequent recovery efforts. All songs are originals written from the heart by Vermont area musicians and the Video footage is more than memorable.
Proceeds from the sale of "Irene's Wake" and related events will be shared between the Vermont Irene Flood Relief Fund and LPCTV's capital campaign for its new facility construction project (currently underway on the Ludlow Community Center Campus).
If you want to help us raise money and buy a CD/DVD (or two) or you just want a little piece of Vermont history, you can buy "Irene's Wake" at:
lpctv.org/IrenesWake
For more info, you can read a recent article from the Vermont Journal at HERE!
January 18, 2012
The reason that freedom of information and the dispersal of that information is critical to, and among other things, is the fight against injustice, oppression, and violence. In my eyes, The future of sharing intellectual property online is no different than making a mixed-tape in the '80s or printing a flyer to share ideas or recent news. How and what you share has become another form of expression in itself. Don't let the government call freedom of speech "Piracy". In honor of supporting free sharing of information, I will be making all of my digital albums free for 24 hours starting at noon today! As a creator of such intellectual property that is being made available in digital form, I can argue both sides, especially since I know that every album that is purchased outright makes it possible for me to afford continuing my path of creation, but I cannot argue against Freedom Of Speech which is the fundemental basis for all art that that exists for more than it's entertainment value.
You can learn more here and funny enough, I wouldn't be able to share this link with such a bill in place.
January 1, 2012
Happy New Year Everyone! It was the warmest New Year's Day I can ever remember and I enjoyed every minute of it while walking through the forest and taking in all the sights, smells, and sounds. It will truly be a wonderful year and I cannot wait to share "Hope From The Forgotten Woods" with you all. It is nearly finished! Anyway, as I promised at the end of last year, I was giving away hand-made tote bags filled with cds, posters, buttons, and other hand-made items worth $115 to 2 people who ordered anything from my site from mid-November until Now… well, I put all of the names in a hat and the 2 winners are… Tatsuru Sakurai and Stephanie Adams! Congratulations and I hope you like all your new gifts for the new year!
December 15, 2011
For my European friends and fans – There is a supersale of my Heartwood cd/lp going on right now! So cheap it is almost insulting! Get it this cheap while you still can. It makes a great holiday gift. If you spend more than 10 Euros, you can get an extra 10% off using the code "AMANDA" from now until January 9th. Cheers!
Big Cartel Sale Here!
November 14, 2011
As a giant THANK YOU, from now until January 1st, 2011 – everyone who purchases anything from my store, including digital downloads from my music page, will be entered into a raffle to win one of two handmade one-of-kind RMH tote bags, heart made by me and filled with CDs, buttons, patches, posters, and other goodies worth $115! There are 2 chances to win. I have done a limited repress of my 2004 album, Daily News, and everything is fully stocked for the Holidays. Also, if you have not yet done so, if you "like" my artist page here! on Facebook, you can also get a promo code for 10% off! Much love and many thanks from The snowy studio in Vermont!
November 6, 2011
Today is the secret digital release of GreatApes! Meaning, it is only available through my website and ditrecords.com! 22 unreleased and rare recordings from 1998-2006 for $12. It was a limited pressing of 100 copies signed and numbered, but for all of you who could not be at the secret solo concert dates in Germany, i spent all day making sure it was available to you digitally! Enjoy!

October 28, 2011
I just returned from Europe for The Pleasants' month long tour there and my 8 secret solo concerts. We had a great time on the road and are now ready to stay put in the studio in Vermont for recording our upcoming releases. Thank you to all of the wonderful people we met on this tour and thank you again to all of our old friends and acquaintances for another nice tour! November will be a productive recording month for completing "Hope From The Forgotten Woods (FINALLY!!!) and The Pleasants' Sophomore release (title not yet decided).
October 6, 2011
What an exciting day today is! Today not only is the 1 year anniversary of the marriage of The Pleasants, but it is the first day of my 8 secret solo concert tour and the secret release of GreatApes, a 22-song collection of rare and unreleased recording, demos, and tapes from 1998-2006. I will be selling this limited pressed collection for 10euros, signed and numbered 1- 100. Once they are sold out, this album will only be available digitally which I will make available as soon as I return home.
July 25, 2011

2011 Solo Dates have been announced for Europe! 8 Secret Solo Shows. Go to the tour page for more info or click on the poster.
April 1, 2011
The Pleasants U.S. and European tour dates have been announced. We will be hitting the road from April until August in the U.S. and September and October in Europe. You can see all tour dates on the events page on FACEBOOK HERE or The Pleasants Tour page HERE. There will be more dates posted everyday, so keep checking back in. Also, if you want more information for a show or city, or are interested in booking us, please contact James at ditbooking@gmail.com. We look forward to see you all soon!
March 2, 2011
Late discovery, but I learned that my cover version of Radiohead's "No Surprises" was included in Esquire Magazine's list of best cover songs. Check it out HERE!
On a different but similar note, I lent my voice to a song written by Uphill Racer, "Heaven Knows I did My Best" for the Album How It Feels To Know There's More. Take a listen HERE. Every song on the album is beautifully composed and arranged by Uphill Racer with different guest voices on each song. Check the album out HERE. It will be available this summer!
January 26, 2011
Check out The Pleasants' New Website HERE!
January 3, 2011
HAPPY NEW YEAR! Starting this year off right, I donated my hair to Wigs For Kids. My head feeling light, I may float off to space, but I will hold on tight to my keyboard and stay grounded while I work on my recordings for "Hope From The Forgotten Woods".
November 10, 2010
Some projects I have had a hand in recently that you should all check out!
DriftDivision – My good friend Andrew Jordan (formerly of Matchbook Romance) has released his first solo album which I could not be more excited about! It is a 6-song Masterpiece! I played piano and co-wrote track 6 – The End.
Arms & Sleepers – Expect Candy label mates, and fellow Northeast area band asked me to do a remix of a song from their latest album Matador. It was a fun project and I remixed their song "Simone" for the Matador Remix album. Take a listen HERE!
Uphill Racer – I contributed my voice for a new and fantastic album written by Uphill Racer that has many guest vocalists, called "How It Feels To Find There's More". You can get a sneak peak of some of the songs (including mine) by watching the video trailer HERE!
October 14, 2010
European tour dates with my new project The Pleasants have been announced! ~ see you soon!~
27.11.10 D-Offenbach, Hafen 2
28.11.10 D-Berlin, Lovelite
29.11.10 D-Dresden, AZ Conni
30.11.10 CZ-Babice, KD
01.12.10 AT-Vienna, Rhiz
02.12.10 IT-Auer/Ora, Piccolo Teatro
03.12.10 IT-Arceto di Scandiano (RE), La Salumeria del Rock
04.12.10 IT-Cuneo, Jazz Club
05.12.10 IT-Torino, Maché
06.12.10 TBA
07.12.10 IT-Bolzano, Theater im Hof
08.12.10 day off
09.12.10 AT-Hoechst, Kultursaal
10.12.10 D-Munich, Highlight @ Kranhalle
11.12.10 TBA
12.12.10 D-Leipzig, Conne Island
13.12.10 D-Giessen, MuK
14.12.10 D-Duisburg, Steinbruch
15.12.10 D-Karlsruhe, Jubez
16.12.10 D-Hannover, Feinkost Lampe
17.12.10 D-Bielefeld, AJZ
18.12.10 D-Hamburg, Hasenschaukel
19.12.10 D-Kiel, Prinz Willy im Maritim Kiel
October 4, 2010
The International Association of Independent Recording Artists, recognizes and honors artistic achievement, technical proficiency, and overall excellence in sound recording by monitoring chart activity in various reporting charts from around the world. According to their research, on 7/28/2010 the release;my song Cabin Muse, from Heartwood, had attained The Number 82 Position, and on 10/02/2010,Cabin Muse,had attained The Number 100 Position on at least one of the charts monitored and verified by iaira. On the basis of that research, iaira has qualified my release as eligible for Certification as an International 'Top 100'.
July 28, 2010
The Pleasants (my new recession rock project) are hitting the road for some adventures this August. Secret shows,Not-So-Secret shows, House concerts, Camping, Hiking, and Packing for our Fall and Winter tours.
We have many Northeast Dates for September, and we head down the coast in October. We have some shows in New England and Virginia with some great friends,The Momentary Prophets. Then The Pleasants head to Europe in December to introduce all of the lovely people in Germany, Italy, Austria, Netherlands, and Czech Republic to our music! Our Record "Forests And Fields" will be available in Europe through Make My Day Records in November. Upon our return, it is back in the Studio for me in January for "Hope From The Forgotten Woods"!
June 1, 2010
Gearing up for some summer and fall touring around the Northeast! Along with that comes SPRING CLEANING!!!! I am hoping to sell of all of my hand-made items from my Etsy shop before I hit the road. Also, one of my T-shirt designs (the piano logo) will no longer be printed so I can start making room for a fresh new design! Please check out my store for the GOING ON TOUR SALE!!
May 31st, 2010
At Midnight tonight, I came in FIRST PLACE for the Lilith Local Talent Search in Boston. Thank you for voting for me on Ourstage! I may get the chance to play the Lilith Fair in Boston with some of my favorite artists! I will keep you all updated!
March 30, 2010
Right now there are so many records on the way! This Spring, my new project, The Pleasants, debut album "Forests And Fields" will be out on D.I.T. records. We will be touring Extensively throughout the U.S. and Canada this Spring and Summer. I hope to see all of you then! There are also some records I will be guest appearing on (more info coming soon). I have 2 top secret and unconventional releases on the way, and my long awaited "Hope From The Forgotten Woods" is on hold! Don't worry, I will have it finished soon… it just takes time and money…both of which is hard to come by as an independent artist!
Got Questions? amandaspiano@gmail.com
January 25,2010
Hello Everyone! Welcome to my new website! I have been quite busy in the studio with the many new releases I have on the way, so there hasn't been much touring. To make up for my absence on the road, I decided to crawl out of my earthy roots for a bit and enter the 21st century with the rest of you cool cats. So, here I am with with a bloggy-blog website to keep you all up to date on all of my projects and adventures!
Do you have any questions? I am friendly and self-managed, so email me at: amandaspiano@gmail.com
also visit D.I.T.records